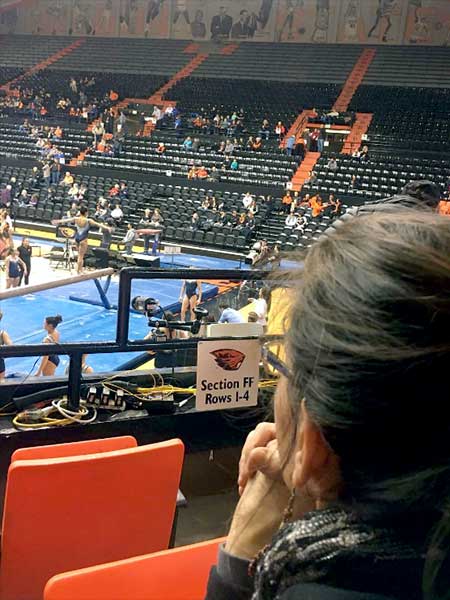 Watching UCLA warm-up on beam. Photo by Robert Hughes.
Yesterday I fulfilled a longtime goal by going to my first NCAA gymnastics meet. UCLA was at Oregon State. I was in full geek girl mode — enthralled every minute I was in the room. I was even clapping during warm-ups. It turned out super fun. Both teams had a great meet with lots of amazing routines. It was fun to actually hear the floor music for a change. I liked seeing how the teams warm up from event to event. And I enjoyed watching the coaches watch their athletes during the routines.
The entire meet was a highlight but particular favorite moments: Peng Peng Lee on beam, UCLA on floor, UCLA on the sidelines, Maddie Gardiner and Kaytianna McMillan on floor.
UCLA highlights are here. Be sure to watch Kyla Ross's 10 on bars. (Scroll down)
Oregon State wrap up is here.
One last favorite moment was at the end of the meet when they invited all the kids to the floor to dance with the gymnasts. When Madison Kocian joined her teammates on the floor you could see the crowd make a major shift in her direction. They started a conga line before a riot started.