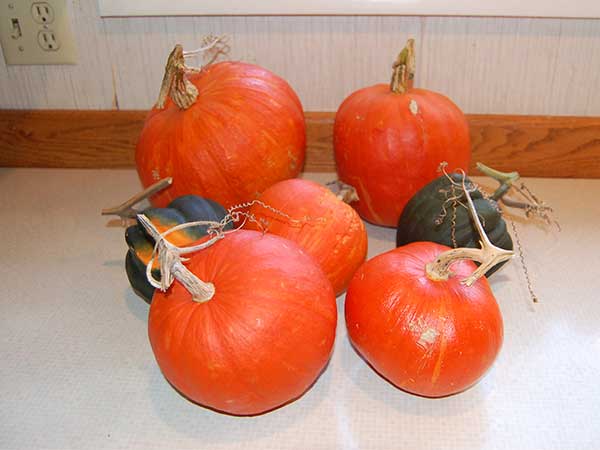 (This is my pumpkin patch 2015. The green things are volunteer acorn squash but I included them in the photo. I had one more big one that I gave to a friend as a gift before this photo.)
For the past couple of years I used this Smooth Pumpkin Pie recipe with great success. But a couple of weeks ago I made these Pumpkin Oreo Cheesecake Bars so I thought I would go for a straight pumpkin pie for Thanksgiving dinner.
I have had great success with the Cook's Illustrated recipe, but it takes forever and I wanted to "keep things simple."
I figured I'd use the Serious Eats Classic Pumpkin Pie recipe – come on. It's Serious Eats. I trust their recipes. I printed it out and made sure I had the ingredients and never examined more closely.
That brings us to cooking day. I had started mixing together the pumpkin stuff when I got to the part where the recipe called for 1 tablespoon of ground ginger. This sounded like too much to me. I've learned not to blindly trust recipes after that time I accidentally made about 1000 gallons of lentil soup.
I went back to look at the website to see if the recipe had been updated to adjust the spices. Instead, most of the comments said things like, "OMG worst pumpkin pie recipe ever," "Tastes bland," and "Too much ginger."
Then I thought it would be a good idea to look for another recipe. Except I'd already started mixing stuff together. I was stuck with what I had.
I improvised by not using so much ginger and adjusting the spices and cooking times via the comments. It came out great. Very pumpkiny and yummy and even better the next day. I wish I'd taken better notes for next year.