Lovesick Braves
Book 2 of the Crooked Rock Urban Indian Center Series
Available Now!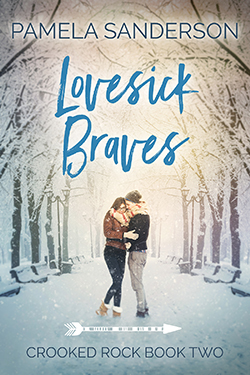 Kindle | Nook | Kobo | Apple | Paperback
The future of the Crooked Rock Urban Indian Center remains uncertain.
Ester Parker has it under control. She's committed to her work with tribal people, she manages an untrustworthy roommate, and on the side, she's developing the skills to go after a new love—filmmaking. If only she had the courage to approach her secret heartthrob.
Theo Dunn left rez life behind long ago. Now, he juggles jobs and sacrifices sleep, doing whatever it takes to finish college and make his family proud. When the irresistible Ester shows up at not one, but two, of his many jobs, Theo finds himself frustratingly—and pleasantly—distracted. But the more he gets to know Ester and the crew at the urban Indian center, the less he sees a place for himself in that world.
Ester knows Theo is the one, but can she convince him that he needs her, too?
Read a sample from Chapter 1.
What are early readers saying about Lovesick Braves?
"Not bad." — Pam's mom
"Why do you keep giving me books? I never have time to read them." — Pam's sister, Erin.
"I kept reading because I love the characters." — Pam's friend, Kira.
"I love these people." —  Pam's friend, Maggie.
"The first kiss scene is PERFECT." — Pam's cousin, Jennifer.
"I was absolutely invested in the characters and the story the entire way." — Pam's friend (actual fiction librarian!), Hannah.
It's never too late to join my mailing list for info on future releases. Free Crooked Rock Prequel story about Linda and Arnie, Not Your Mascot, is available when you sign up.
Don't worry, your email won't be shared and I only send it out once or twice a year so you won't dread seeing it.