Sweetheart Braves
Book 3 of the Crooked Rock Urban Indian Center Series
Sweetheart Braves is available now!
Great review: Recommended Read from Dear Author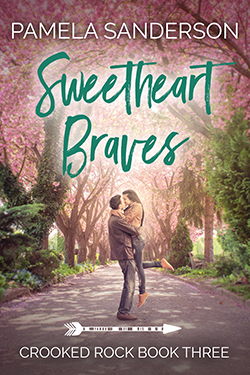 The future of the Crooked Rock Urban Indian Center remains uncertain.
Tommy Weaver wants to stay sober and that means steering clear of challenging situations, avoiding difficult people, and staying away from personal relationships. Unfortunately, he has a cousin unsuccessfully rehabbing in his spare room while Crooked Rock demands more than he can give, and in the midst of his growing troubles, the irresistible Elizabeth appears.
Elizabeth Lewis couldn't wait to finish college and get back to the security of her home and family on the reservation. But when her granny, a well-known Indian activist, seeks to right a family wrong, Elizabeth finds herself back in the city and seeking assistance from Crooked Rock. She convinces Tommy to join her and as her mission grows more complicated, he never leaves her side.
Neither of them expected to fall this hard, so what happens when it's time for Elizabeth to go back home?
If you somehow managed to make it this far and you haven't read Book 1 or Book 2 — sorry, this is not a standalone. You'll enjoy it more if you read at least one of the other books first. Links and blurbs here.
Kindle | Nook | Apple | Kobo | Paperback
Book 1 was a Dear Author Recommended Read
Read a sample: Book One: Heartbeat Braves
What readers are readers saying about earlier books?
"Not bad." — Pam's mom
"Still haven't had time to read one." — Pam's sister, Erin.
"I kept reading because I love the characters." — Pam's friend, Kira.
"I love these people." —  Pam's friend, Maggie.
"The first kiss scene is PERFECT." — Pam's cousin, Jennifer.
Why not join the mailing list for info on future releases? Free Crooked Rock Prequel story about Linda and Arnie, Not Your Mascot, is available when you sign up.
Don't worry, your email won't be shared and I only send it out once or twice a year so you won't dread seeing it.